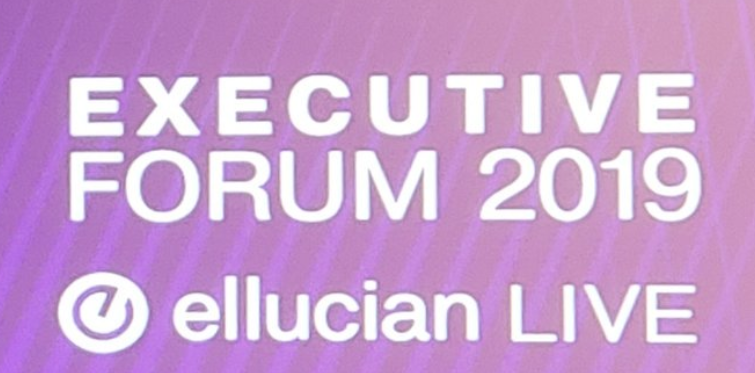 I was just thinking when I got my invite to evaluate the Executive Forum …… hmmm what are my takeaways this time? This was my 7th or 8th  Executive Forum, following a 15 run at a school that used a competing ERP product so I think I have some perspective on all of this.  What should I say that I didn't say during the event on my Twitter Feed? Also, since we are in New Orleans I will frame my thoughts with a bit of a local flavor. I am both Jazzed by what I heard as well as having  a bit of the Blues. I will summarize my Key Takeaways and then explain (at least partially)

Don't be afraid of listening to new ideas.
Always separate the individuals you are dealing with from the corporation.
The effort to communicate accurately the direction of the company is much better than it was.
The people you connect with are really what matters.
You should disagree once in a while.
I continue to understand more and more how ERP is like that 1958 horror flick "Beware of the Blob," The basic setting and theme of the show was,
Outside a small Pennsylvania town, a meteorite falls from the sky in the dead of night. From within emerges a gelatinous, alien mass – an organism that grows inside and threatens to consume everything in its path.

That is exactly what technology and ERP software looks like … an amorphus ever-expanding and all-consuming amoeba from outer space consisting of a bloated bureaucratic mass. This mass without apparent shape or form gives you the day-to-day grind of policy battles, firefighting and political encounters over the trival. This really can start to cut you off from outside ideas and thinking. This is exactly why you come to this event in spite of any other factor I mention from this point forward. This provides my Executive Forum TakeAway Number one.

Don't be afraid of listening to new ideas. You don't even have to agree with all the ideas you hear but you should listen. If we all can actually get to where the success stories on stage are, you will be doing right by our students.  That is really the only true measure that matters….is what you are doing good for your students

When you deal with a company as large as Ellucian entity seems it too can seem like the blob. In the past I have been tossed here and yonder trying to resolve an issue and eventually in many cases have simply gone a different path. I try to be open to the fabulous success stories that are presented on stage but when you leave the presentations and break bread with colleagues from across the country during the meals you often hear the frustration of the spotlight and stage rhetoric not lining up with your experience with the company.

My experience and / or observation is a revolving door of account execs, confusion over who my account rep is, RFPs not responded to, service requests dragging out for months, being billed for attempting to scope a project.

Yes the corporate right hand hasn't always known what the corporate left hand was doing but in spite of those frustrations always treat the individuals in a civil manner. I don't recall ever meeting an individual employee who I did not like or who in their own way was not trying to do their best. Executive Forum TakeAway Number Two.

Always separate the individuals you are dealing with from the corporation.

When I attended my first elive the executive forum it was downright ugly. The "event was cool ( That is the one that had for entertainment the full circus with a sword swallower, a fire eating dwarf, carnivalish stuff and more) but the executive forum was not. I was sitting at a table with friends and colleagues from a huge Ellucian client. One slide came up about a change that was going to occur which would cost them millions upon millions of dollars. I thought my friends head was going to explode. I don't think the roadmaps and timetables we seen now are always accurate, but I do think there is an effort to get to a more accurate picture of the truth. Perfect? Not by a long shot, but much better than 7 or 8 years ago. Executive Forum TakeAway Number Three.

The effort to communicate accurately the direction of the company is much better than it was.
I really don't care much about the technology anymore. You might say, oh your just too busy writing books and telling stories (yes this link is my one shameless plug in this post for my books). That isn't it at all. It is all about people. I am usually impressed by the passion individual people have for their jobs and their commitment to doing a really good job for their institution or company. This goes for people at the colleges and universities, Ellucian employees, consultants and vendors. There are people who have a passion for jobs I can't imagine being passionate about. I appreciate and am thankful for each of these. The most important people in this are the students. I have learned, the view you have to operate from is how does this impact impact your students and their ability to achieve their dreams. Executive Forum TakeAway Number Four.
The people you connect with are really what matters.
I hope I don't always agree with everything I hear at this meeting. It is important to retain independent thought. I sometimes think there is not enough diversity of thought and ideas presented. I understand Ellucian is trying to sell product and inspire us and that they are passionate about the software and the possibilities , but the fact is, it isn't going as smoothly at many institutions as the panelists and presenters make it appear. Deploying all of this stuff is really really really hard even when it goes well and it is not going well for many. Executive Forum TakeAway Number Five.

You should disagree once in a while.

Other things to continue to think about.
Is rural in trouble
How do you stabilize your IT environment so that your end user community can bring their ideas to your organizational table and create and innovate
What is transformational technology?  
I probably missed something, but those are my quick thoughts and takeaways. I am Jazzed about somethings I saw and have the Blues about others. Additionally, all of this sometimes oozes together like the blob from that 1958 movie. Don't let it. Remember most people are just trying to do their job and what is best for students. Do what's best for students and everything else will work out.